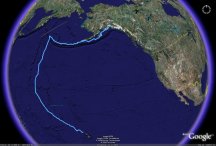 We took off from Oahu on June 12, sailed to Midway Atoll, and stayed there about a week. From Midway we went to Attu Island, at the west end of the Aleutians. We followed the Aleutians to the North American mainland, and on to Prince William Sound. You can read the Minnow Blog at:

http://hmsminnow.blogspot.com

If you prefer to begin at the beginning, try this one:

http://hmsminnow.blogspot.com/2008/06/midway-midway-attu-day-0.html

(You can click "Newer Post" at the bottom after reading each post to progress forward in time.)"